July 4th, 2023 – Kiplin Metals Inc. (the "Company" or "Kiplin") (TSX-V: KIP, FWB: 17G1) has closed a first tranche of its non-brokered private placement being conducted under the listed issuer financing exemption (as defined below). Under the first tranche, the company has issued 1.25 million units at a price of 17 cents per unit for gross proceeds of $212,500. Each unit consists of one common share of the company and one common share purchase warrant. Each warrant entitles the holder to purchase one common share of the company at a price of 23 cents at any time on or before Aug. 24, 2024.
The offering is being made to purchasers resident in Canada, except Quebec, pursuant to the listed issuer financing exemption under Part 5A of National Instrument 45-106 (Prospectus Exemptions). As a result, the securities issued in the offering are not subject to a hold period in accordance with applicable Canadian securities laws. An offering document related to the offering is available under the company's profile at SEDAR+ and on the company's website. Prospective investors should read this offering document before making an investment decision.
The company anticipates completing additional tranches of the offering, as announced in the news release issued by the company on Aug. 16, 2023. No finders' fees were paid in connection with completion of the initial tranche of the offering, but the company may pay finders' fees to eligible parties which have assisted in introducing subscribers to further tranches of the offering.
About Kiplin Metals Inc.
Kiplin Metals Inc. is a mineral exploration company. We create value for our shareholders by identifying and developing highly prospective mineral exploration opportunities. Our strategy is to advance our projects from discovery to production, allowing Kiplin to achieve exceptional shareholder value through the entire life-cycle of mining.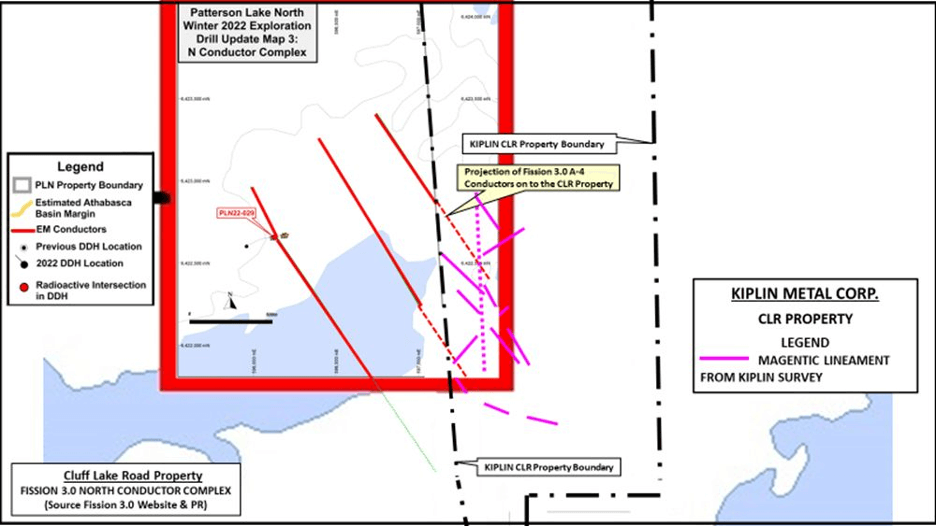 Cluff Lake Road Uranium Project. Kiplin has the right to earn a one-hundred percent interest in the Cluff Lake Road Uranium Project (the "CLR Project").  The CLR Project covers ~531 ha in the southwestern Athabasca Basin in northern Saskatchewan, where several new discoveries have been made, including the Arrow and Triple R Uranium deposits. The CLR Project is 5 km east of the Cluff Lake Road (Hwy 955), which leads to the historic Cluff Lake Mine, which historically produced approximately 62,000,000 lbs of yellowcake uranium.
For further information, contact the Company at [email protected], or visit the Company's website at www.kiplinmetals.com.
On behalf of the Board,
For further information, contact the Company at 604-622-1199.
On behalf of the Board of Directors,
"Peter Born"
Director
Neither the TSX Venture Exchange nor its Regulation Services Provider (as that term is defined in policies of the TSX Venture Exchange) accepts responsibility for the adequacy or accuracy of this release.
This news release may include forward-looking statements that are subject to risks and uncertainties. All statements within, other than statements of historical fact, are to be considered forward looking. Although the Company believes the expectations expressed in such forward-looking statements are based on reasonable assumptions, such statements are not guarantees of future performance and actual results or developments may differ materially from those in forward-looking statements. There can be no assurances that such statements will prove accurate and, therefore, readers are advised to rely on their own evaluation of such uncertainties. We do not assume any obligation to update any forward-looking statements except as required under the applicable laws.